Description
EFHW-4010-1K-Plus™ Multi-Band End Fed Half Wave Antenna
This is an End-Fed Half-Wave (EFHW*) antenna for 40/20/15 and 10m bands. Unlike many END FED antennas on the market, this one does not require the Antenna Tuner to operate. It is a resonant Half wave on 40m (7MHz) therefore also resonant on second, third, and fourth harmonics. The antenna transformer is optimized for the lowest insertion loss 3.5-30MHz featuring three stacked cores and a transformation ratio of ~56:1 (~2800:50 Ohms) The average loss of less than 0.4dB is unmatched by any other similar transformer on the market proving our worldwide leadership in the design of high ratio-wide bandwidth RF transformers for 3-30MHz. See the Insertion loss chart here. This is the smaller version of our EFHW-4010-2K-Plus model, see the comparison image.
NO TUNER needed!
NO counterpoise needed!

Grounding of cable at the entrance to the home is recommended
Frequency coverage: 7-30MHz
Resonant on 40/20/15/10m
Wire length ~63 feet
Power Handling: 1kW I.C.A.S
250W continuous in digital modes such as FT8
Stainless Steel hardware
Stealth #16 AWG XLPE black wire
Connector: Silver/Teflon SO-239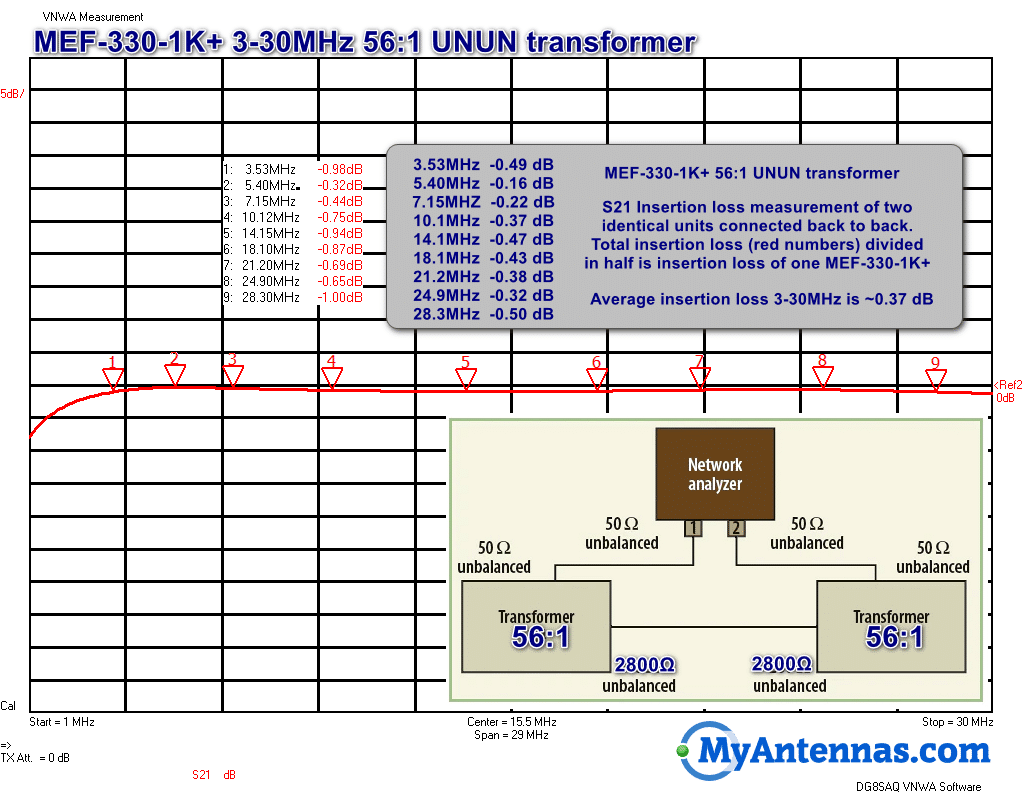 NOTE: grounding does not affect antenna tuning. If the transformer box is installed high above the ground , there is no need to route the ground wire from the box, instead just ground the coaxial cable at the entrance to your home or at the station.

* EFHW (monoband) antenna was introduced to HAMs almost century ago by Josef Fuchs, OE1JF, patented in 1927.